THE MODALITY OF MANIA, taught by Sam Heaps, Thursdays, June 8,15, 22, 29; July 6, 13, 2023
THE MODALITY OF MANIA: Writing Compassionately and Truthfully About Mental Illness and Pain
Thursdays, June 8, 15, 22, 29; July 6, 13
6-8 pm ET on Zoom
Class limit: 12
$250

Our favorite characters aren't usually perfect people. Instead, they're often individuals who are hurt and hurting in equal measure. They're people in situations they're not prepared for, in environments that don't suit them, trying every day to make the best decisions they can, given their circumstances. The characters we love most are usually the ones that remind us of the most of ourselves, all of our own contradictions mirrored back to us on the page.
How do we write about the most hurt and hurting, without stepping away and dehumanizing these characters by othering them, or glorifying them in the "antihero" tradition that is currently so popular? How can we do justice to the complexities of the human experience when writing narrative, a form of art that requires certain conventions such as plot and conflict, which are designed to pit our most beloved creations against each other? How do we depict the truth of our real mental conditions — writing characters whose interior and dialogue express the reality of a confused brain and body. How do we express thinking patterns that go beyond the neurotypical? And how do we compassionately depict our most painful experiences, without getting sucked back into them?
In this class, we will study writers such as Han Kang, Anna Kavan, Terese Marie Mailhot, Qiu Miaojin, and Chantel V Johnson. I, of course, have my own experiences and interests, so I will solicit texts from students as well which draw from your own fears and obsessions. We will work together to create a safe and respectful environment to grapple together, and we should all expect to learn from one another. This will be a generative class and through prompts and investigation, we will be working towards telling new stories that challenge us.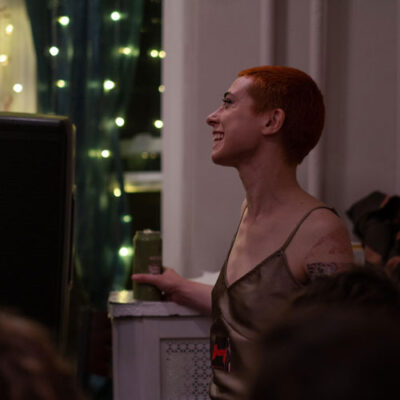 Sam Heaps (they/them) is a genderqueer writer, organizer, and visual artist with an MFA from the School of the Art Institute of Chicago. Heaps' debut essay collection, Proximity, was released from CLASH Books in 2023. They have received support from the Virginia Center for the Creative Arts, the NES Artist Residency, and Tin House. Heaps teaches writing at the University of the Arts in Philadelphia.